Otowa Yakitori is possibly Singapore's best yakitori restaurant – it's an authentic, hole-in-the-wall place with no frills but an intense attention to the quality of its food. The chicken skin is grilled evenly crispy and the quail eggs melt-in-your mouth.
As a measure of its authenticity, Otowa serves a variety of raw chicken which is only possible because the restaurant gets its chicken delivered on the day that it's slaughtered. However, it's the cooked food that I like.
Located on the third floor of Orchard Plaza, the restaurant seats up to 12 diners around a counter (so reservations are recommended). The only drawback is that its chairs are possibly some of the most uncomfortable ever. So it's a good thing the food is served efficiently. Owner-chef Yoshino cooks the yakitori with the attention of a surgeon. He's not the type of chef you'd joke with while he's cooking. That's left to his wife Yuki who is perfectly amiable and handles the preparation and also makes good sake recommendations. They've been around for 10 years, focusing on honing their food to near-perfection.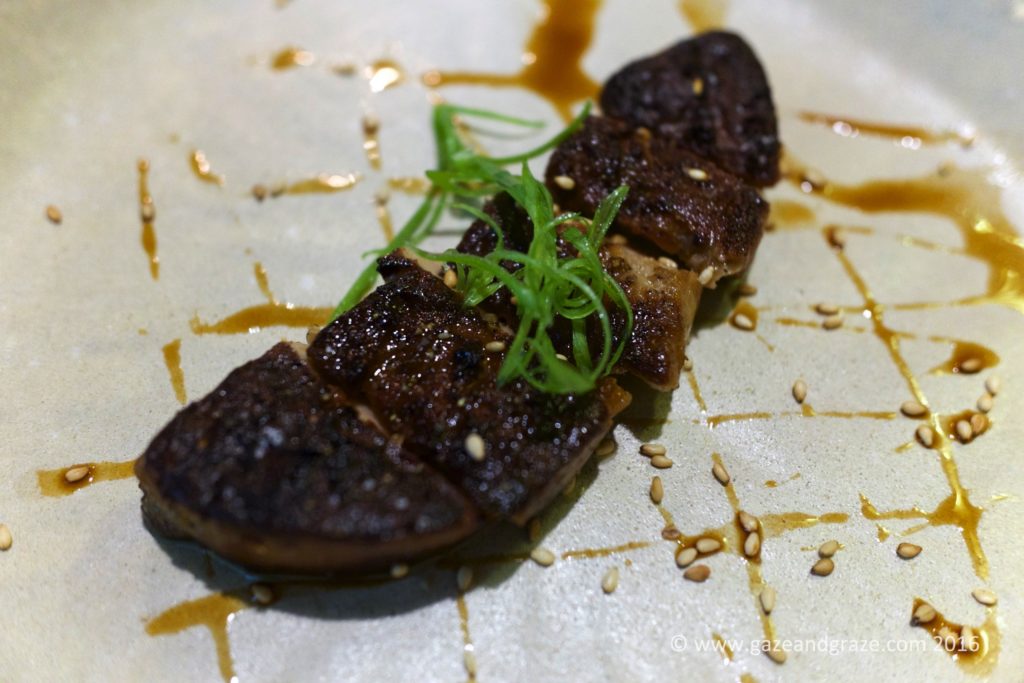 Besides the various chicken yakitori, Otowa also serves wagyu, and duck foie gras. The foie gras is simply grilled with just a hint of balsamic glaze on the plate. The home made fishcake is a treat and I'd highly recommend this on the occasions that it is available. And if you're looking for carbs, there are rice stew and noodles available but I've not tried this. Some of the starters they have include boiled chicken skin with ponzu sauce that is served cold and finely sliced with lots of spring onions and sesame. My husband likes the raw octopus with wasabi.
There's a choice of having the chicken grilled with a slightly sweetish sauce (like a bbq sauce) or with salt. Generally I'm happy with the salt but the chicken meat balls with the sauce are really good. Overall, I'd say the must haves are the quail eggs, chicken skin and the chicken tail ("bonjiri"). And then there are the chicken wings and meat balls too. Most of the yakitori is around SGD4-5 per stick while the foie gras is SGD18 for the piece and the beef is SGD28.
Otowa is open only for dinner (no lunch) on Monday through Saturday (closed Sundays). Call (+65-67335989) to make reservations.