When the skiing season is over, the Dolomites turns into a picturesque location for great walks. Easy access by car from Verona or Venice and ample choice of good restaurants and lodgings, makes this a very comfortable destination. The walks are varied from relatively easy short walks to multi-day hikes. The latter is not something we're prepared to do so we focused on a few key walks that we knew we'd be able to manage. One of the easier and shorter walks in Italy's Dolomites is that around Cinque Torri.
We had three nights in the Dolomites and focused on three to four main walks. We chose Cinque Torri as it was well regarded to be easily accessible by car and that we would have a choice of shorter walks around the site. The path we took was probably less than 6km and under two hours as we loitered to take photos. And because it's located within a 30 minute drive to Passo Falzarego, we were able to have lunch at the impressively located Rifugio Lagazuoi.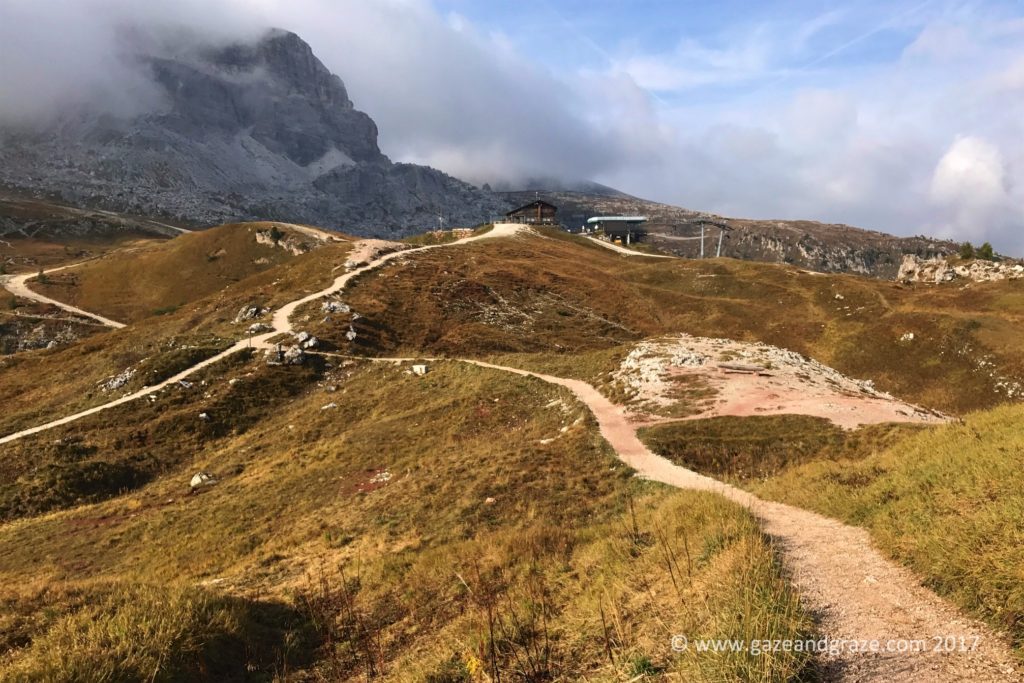 Cinque Torri means "Five Towers", named after five solid rock outcrops nestled close together. But it's not just the view of the towers that are interesting, it's the panoramic view of other mountains as we made our loop walk. The loop walk was also handy as it meant we didn't have to backtrack to our car. The path is clearly noticeable and although there were areas where we weren't sure which turn off we were to take, it was actually easy to figure out by looking around. Just to note, however, the path is loose gravel – same for other walks – and this makes it quite slippery especially downhill. A good pair of hiking shoes is probably best.
Getting Here and Parking
Cinque Torri is located off SR48 and the turn off is well marked so is unlikely to be missed. Once off SR48, we followed the road uphill until we hit an boom gate near the Rifugio 5 Torri which meant we couldn't proceed any further. There aren't obvious parking spots but we did as other cars did, which was to park on the side of the road. The other way of getting here is to drive to the cable car station at the Baita Bai de Dones and take the cable car up. It's probably useful to make sure the cable cars are running especially if you're visiting in between the summer walking and winter skiing seasons.