With just three days in Italy's Dolomites, the walk from Rifugio Lagazuoi to Rifugio Scotoni was a key highlight for us. This 11km or so walk starts with ride on a cable car up into the clouds to the alpine hut, Rifugio Lagazuoi before descending down to another charming alpine hut. If the place is somewhat familiar, it's because it shows up in the James Bond movie For Your Eyes Only and the views are indeed stunning. The Rifugio Lagazuoi also serves a good lunch so we had this to fill us up before embarking on our downhill descent to Rifugio Scotoni and beyond that, to our bus stop near the town of Sciare.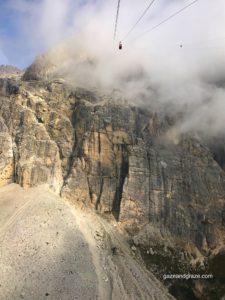 Italy's Dolomites are better known as a premier ski destination but in the summer, the ski slopes become hiking paths. Although I'm sure it's less strenuous to ski down, the walk gives us time to admire the mountains up close. And we still get to enjoy the good food in the alpine huts. The other benefit in coming in the summer season – or in our case, the early autumn, is that it's a lot less crowded and accommodation is cheaper. We were here in early October but I think coming in late May, June or September is ideal because the towns begin to shut down before the last week of September and the weather becomes more unpredictable in October. I'd certainly recommend a visit here for those who like being out in nature and doing walks. It's a great way to see another part of Italy and it's an easy drive from the historic towns of Venice and Verona.
While there are numerous other walks in the area, we chose this one for its access and its views although I imagine most of the other walks also have great scenery. At almost every turn  in the Dolomites, there are jaw dropping scenes – at least for urban, sea-level dwellers like us. We also selected this path because it's not meant to be too strenuous. However, because we were walking down, the gravel was especially slippery even in our hiking boots. There was also one extremely steep section which made it stressful on our aged knees. It's no wonder then that most people we passed were walking up to Rifugio Lagazuoi and not down to Rifugio Scotoni. My Rehband knee sleeves were worth every single dollar on this walk.
Our Walk in Photos: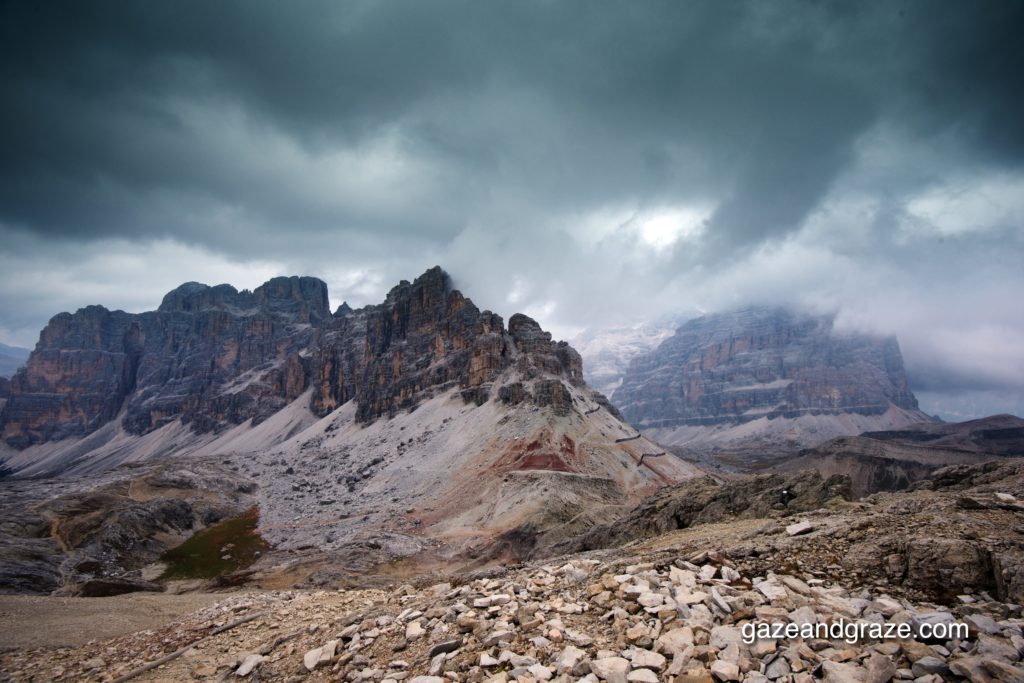 The sky was a bit dramatic at the start of our walk along trail no. 20 that leads us towards the Rifugio Scotoni. Luckily, the clouds seemed to be perched mainly at Lagazuoi. Not surprising since it's at an altitude close to 2,800 meters. Scotoni sits just below 2,000 meters, so the descent for us was about 800 meters with another couple hundred meters down to our bus. So while it did start off a bit chilly for us, it quickly warmed up around mid-way through.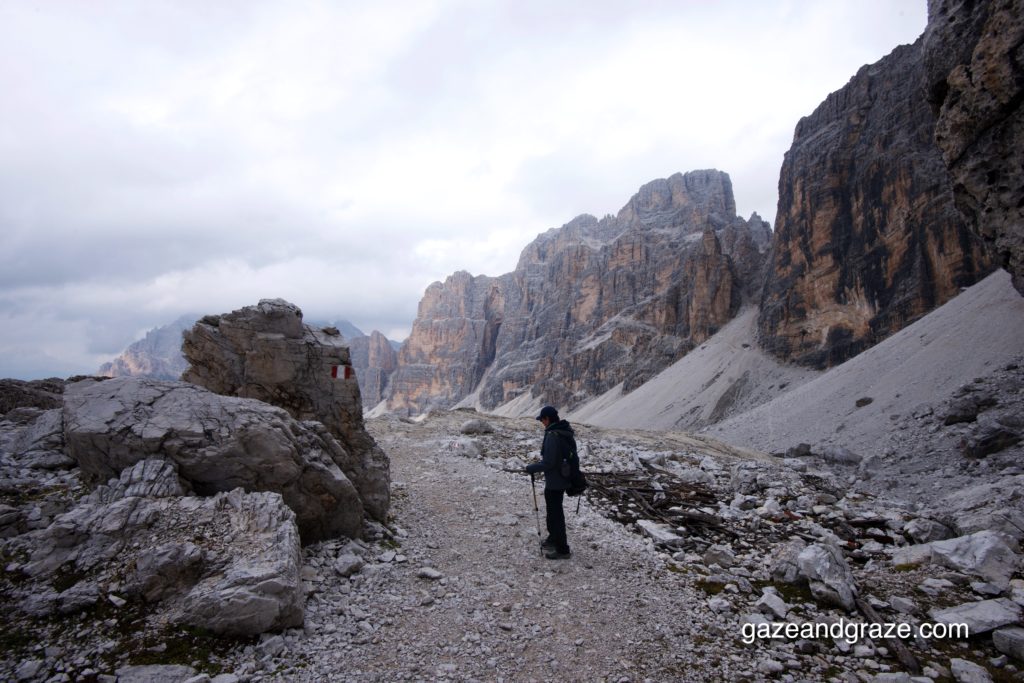 As with our Cinque Torri walk earlier that morning, the trails are all well marked. Note the red & white marker on the boulder along the path. During winter much of this would be covered with snow. Other trails are available including one that mimics a famous route used during World War I when the Italians and Austrians would defend their trenches in these mountains. In fact, the Italians dug extensive tunnels into the mountain in this area from which to hide out in. Unfortunately at the time we visited, the visits to the tunnel were already closed for the season.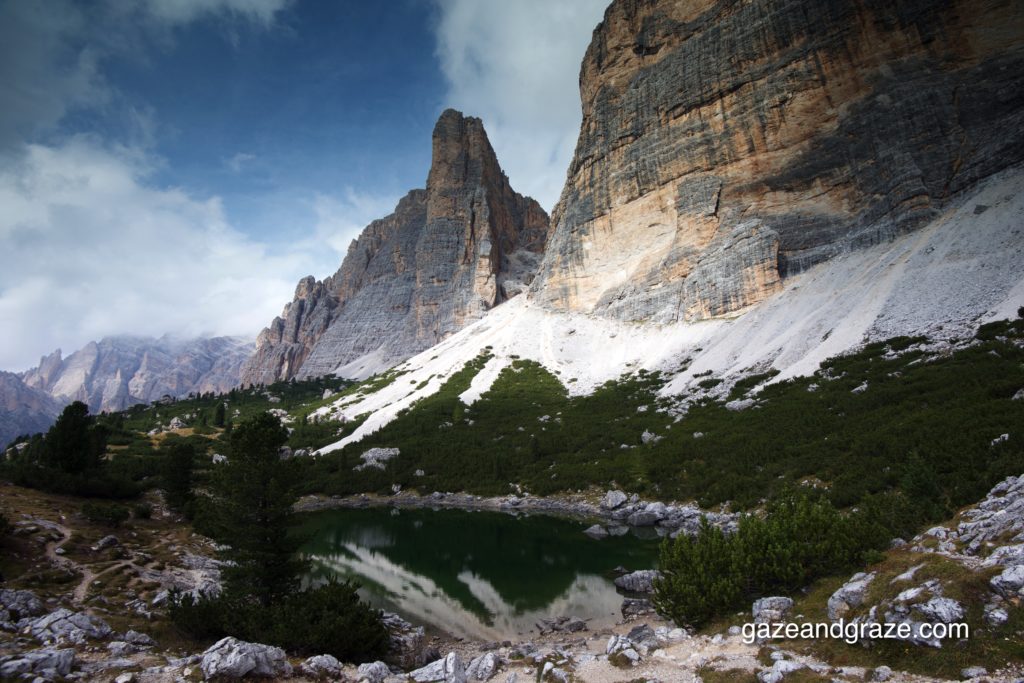 We knew that we weren't too far from Rifugio Scotoni when we saw the alpine lake, Lago Lagazuoi, that is nestled in front of the towering Cima Lavazze. It was too cold for us to swim in but on a warm summer day, I'm sure the water would be inviting for tired legs. The lake also marked the beginning of the most difficult stretch of the walk for us.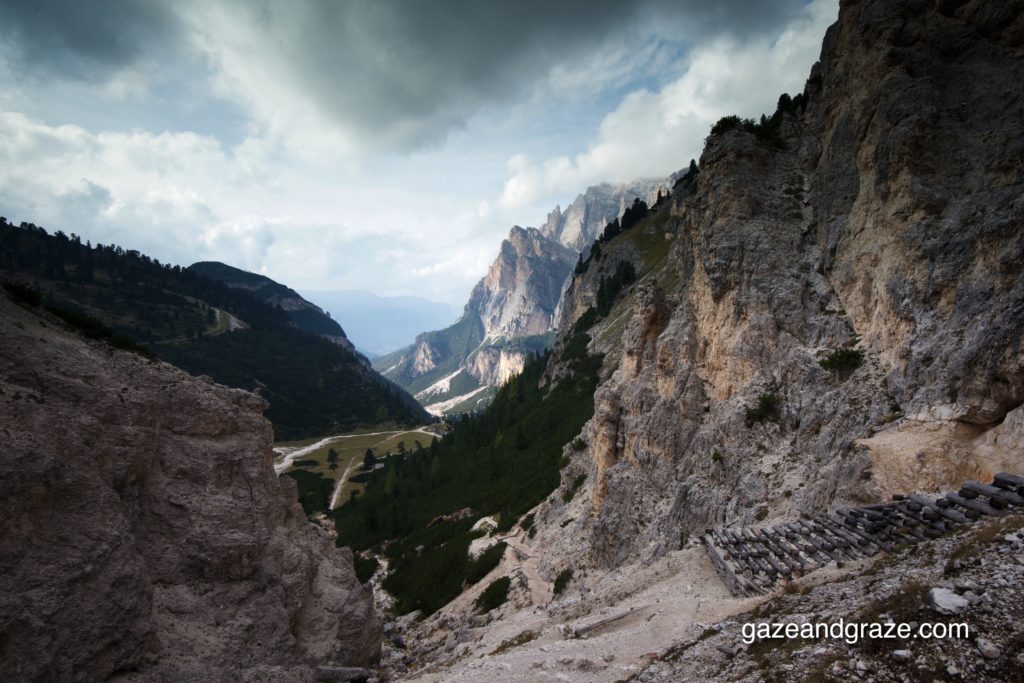 After passing the lake we hit an area marked with tape but no real ropes or barriers. And this indicated the start of a very steep path down towards Scotoni. In fact, in the picture above, I'm looking down at the start of the path. I had read somewhere that this was a difficult section but as the trail is classified as "easy" in the visitor guides, I didn't think it would be this steep. But I think much of it was made all the more challenging by the loose gravel which make the walk down slippery. The good news is that it's not that long a section – it probably took around 20-30 minutes to get down as we tended to be quite cautious in some parts. We were obviously extremely relieved to hit flat ground.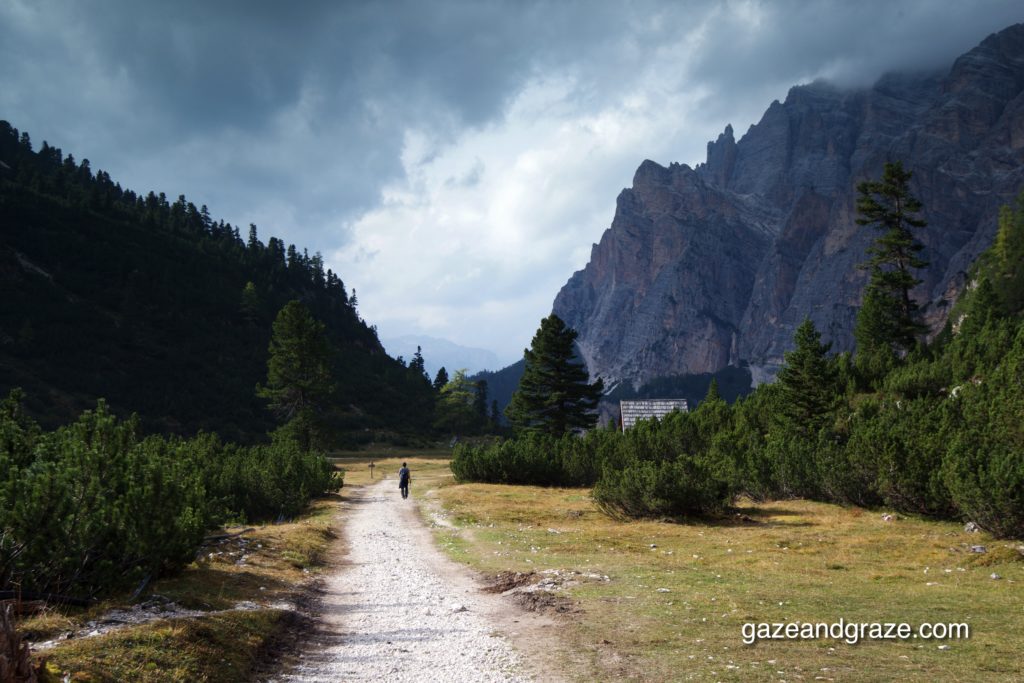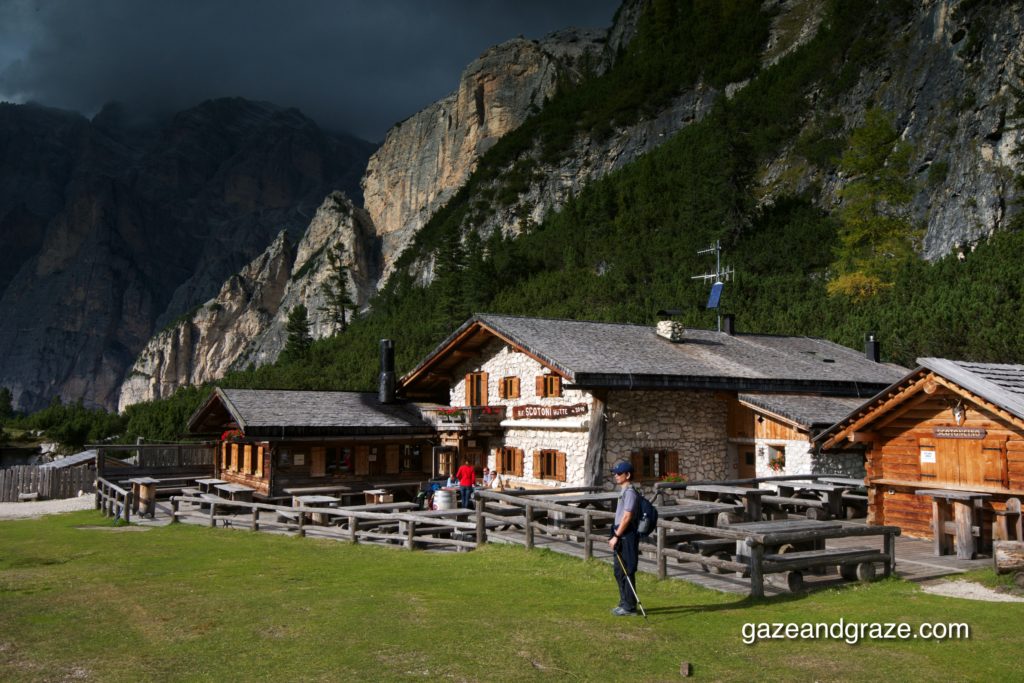 Rifugio Scotoni is very charming with llamas grazing in the grassy knoll. The hut was a great place to stop for a drink after our walk. Gin & tonic in my case – felt I need to reward myself. Unfortunately we couldn't stay here for long as we had to head to Sciare in order to catch the bus back to our car that we left at the Passo Falzarego carpark. Passo Falzarego is where we took the cable car to Rifugio Lagazuoi. It took us around another one hour to walk to Sciare from Scotoni to catch our bus. There was another steep section on a grassy field down, but this wasn't too bad compared to the rocky switchback path earlier.
The nice thing about the Dolomites is that the main towns are well connected by public buses. However, in the off season, the bus may not be that frequent so it's a good thing to keep the schedule in mind. Luckily it worked out well for us even though we had a very fast walk to Sciare.