We may be in the mountains but that doesn't mean the dining isn't fine. Michelin one-starred Aga Ristorante is manned by a team of talented millennials led by husband and wife team of Oliver Piras and Alessandra del Favero. Located just twenty minutes drive south of Cortina in San Vito di Cadore, the restaurant is off the main road in the Hotel Villa Trieste and close enough for us to have a good lunch after a walk at Tre Cime. And because the restaurant exudes a Scandinavian cool, it was fine for us to show up in our trekking gear (albeit I suspect guests at dinner may dress better).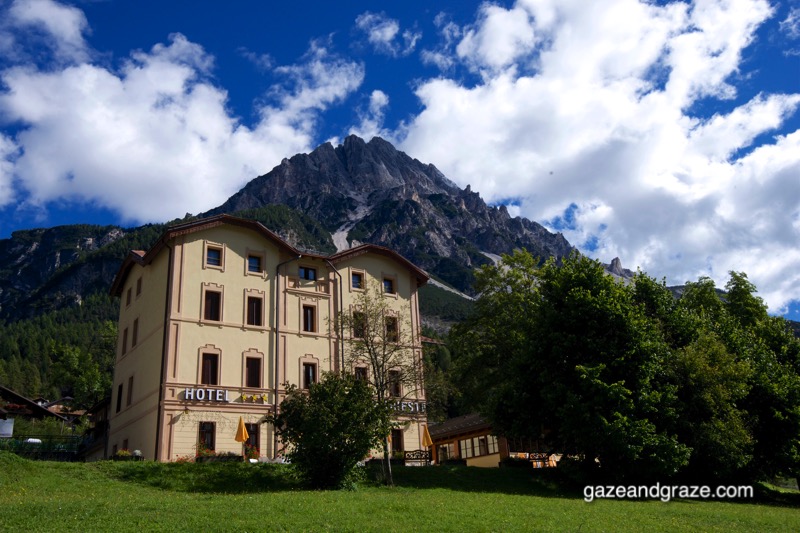 I'd describe the food as a modern interpretation of Italian food. There is pasta and ravioli but the former is made with red fruits and the latter served in a cheese broth. So the food is certainly recognisable but the tastes are new. There's definitely a Scandinavian and some Japanese influence in the simple overtones and the focus on the local produce. Certainly Aga prides itself on utilising locally foraged ingredients. This isn't surprising since the chef had previously worked at Noma's in Copenhagen.
The Scandinavian influence carries over to the dining room, with its soothing bleached tones. There are just four tables which means that large groups will be split into two tables but that was fine with us. However, because of the small size, reservations are definitely necessary. I booked online – more information is available on their website, which also contains their menu although much of it is only in Italian.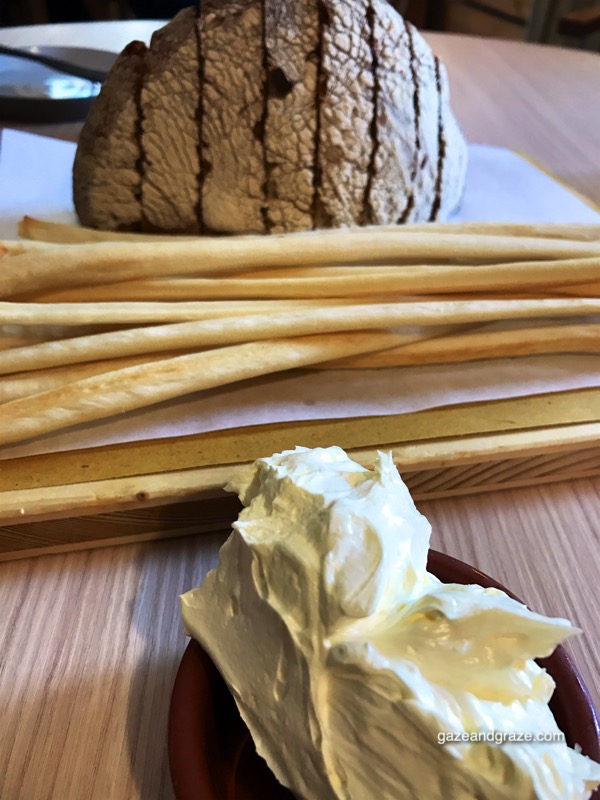 A choice of Two Menus
While the restaurant does have an a la carte menu for smaller parties, since we were a group of 11, we had a choice of two degustation menus to choose from. Basically, each set comprises of starters and either five or eight courses. For lunch, we were happy to go with the five courses. It's a good amount of food since there are three starters before the first course. Pricing is decent – at the time we went, our five course menu was EUR 65 per person. I've noticed that pricing has been raised slightly recently based on their website but still reasonable for the quality of food.
Our meal was off to a good start when the bread arrived. Their freshly baked crusty bread was outstanding especially with the creamy butter, the white peaks of which are to remind us of the surrounding Dolomites. With this, I knew we were going to have a good meal.
Our Starters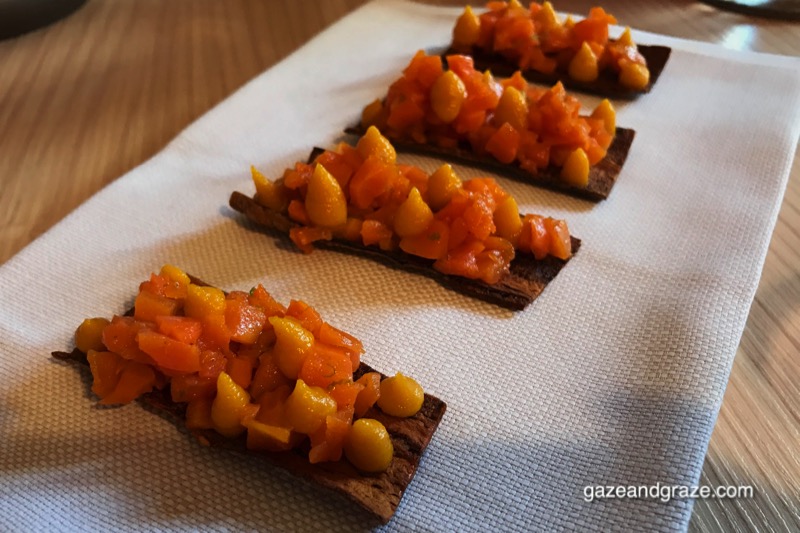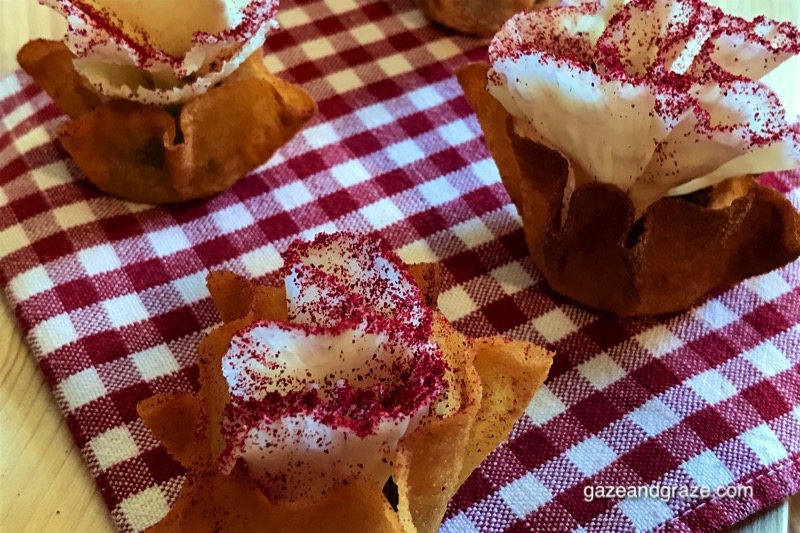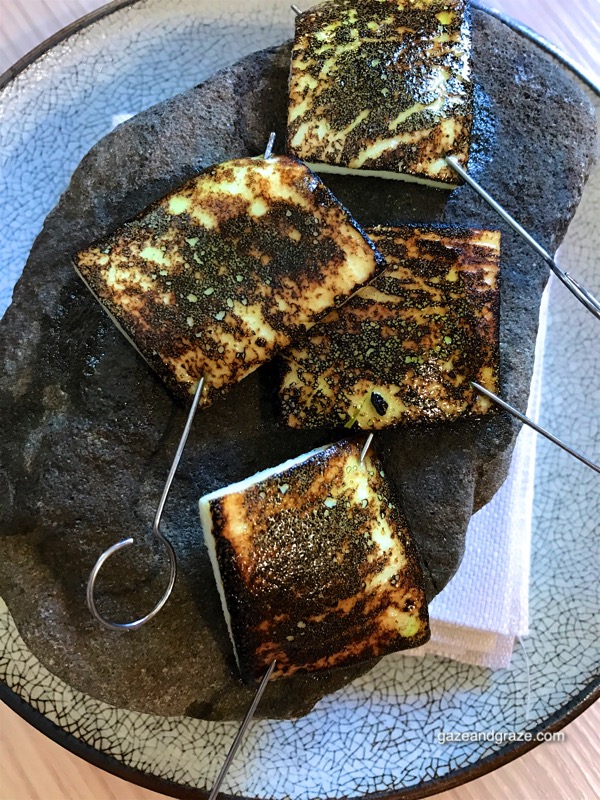 Our three starters were all very different and all interesting. The first – carrot skin and carrots in a citrus cream on a crispy base would have tickled most vegetarians. It was refreshing but I'm not a big fan of carrots.
I enjoyed the second since it was made of thinly sliced frozen bone marrow. The raspberry sprinkle gave it a nice sweet-tartiness and also made the dish look more like a cupcake.
Our final starter had a distinctive Japanese influence. In fact, it reminds me of grilled tofu with miso. The restaurant calls this their "mountain calamari", and it does look like grilled squid but is made with egg.
Our Courses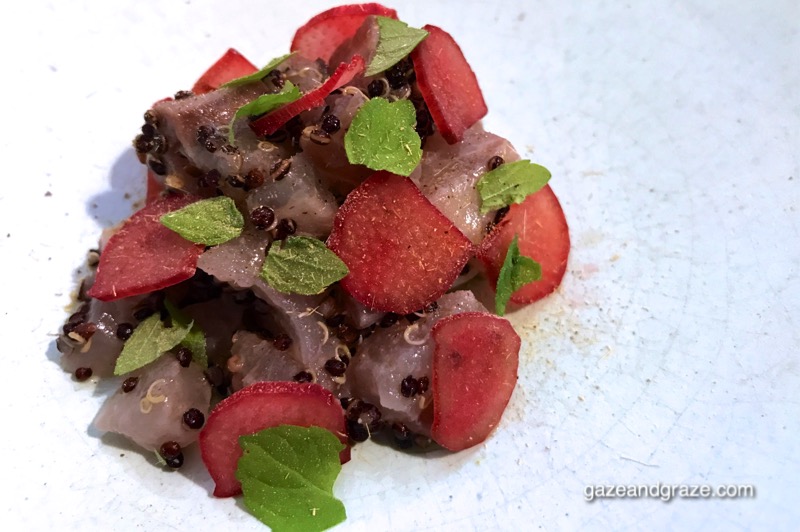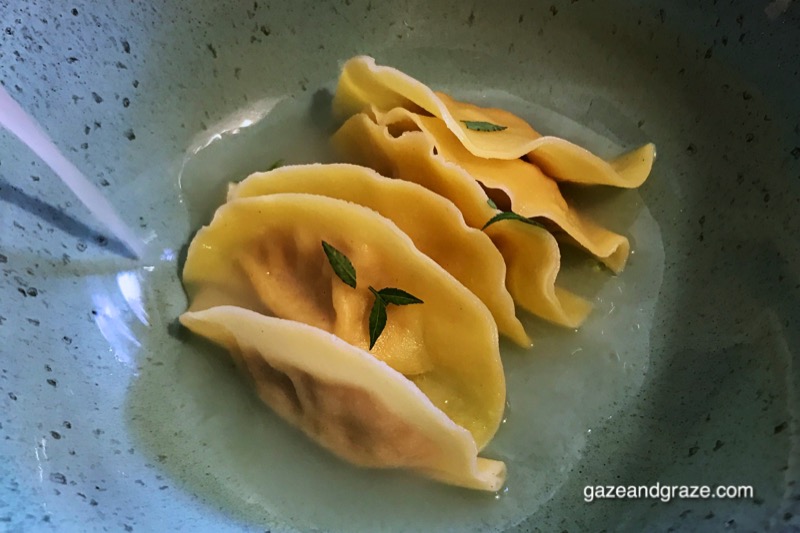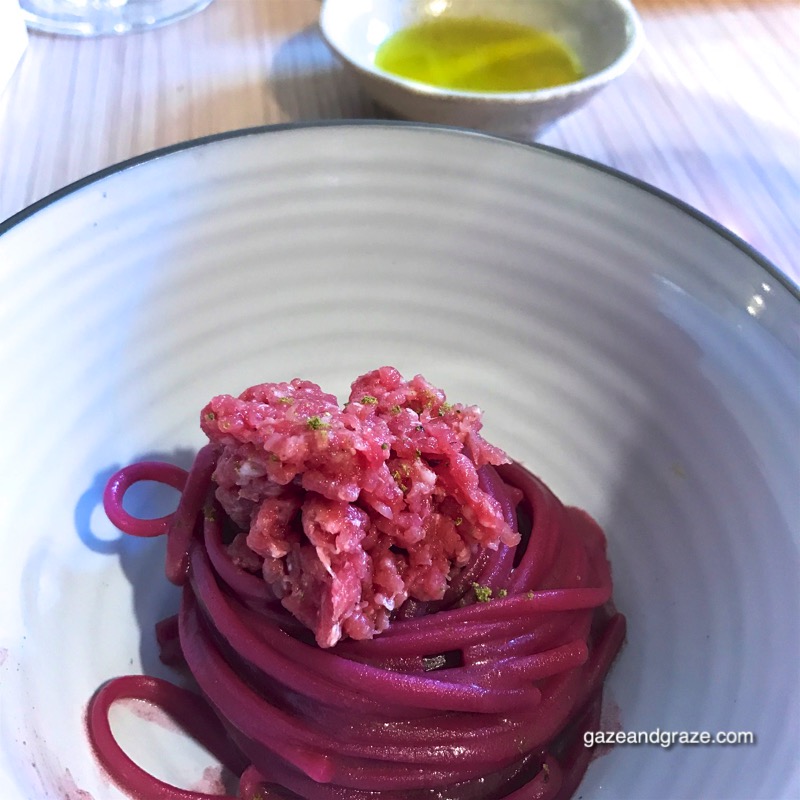 The main courses contained what you would expect in a traditional Italian meal – fish carpaccio, and pasta as the entrees. However, the twists are there. The raw perch was served with rhubarb, Japanese mint and oregano, and some quinoa.
The ravioli, which resembled Chinese dumplings to me, was stuffed with a vinegar dressed veal rilette and mexican marigold. A hot cheese broth was poured into the ravioli at the table.
And the linguine is seasoned with berries resulting in its berry colour. The sausage meat (beef) that accompanies the pasta was raw. This combo worked nicely.
The last main dish, which was pigeon, probably was my least favourite for the meal. This was mainly because I'm not that big a fan of pigeon, especially since it is served rare, and as this I thought was not as interesting as the other courses. The leg was grilled and so probably more palatable for most people. Given a choice of mains, it may be better to ask for another meat.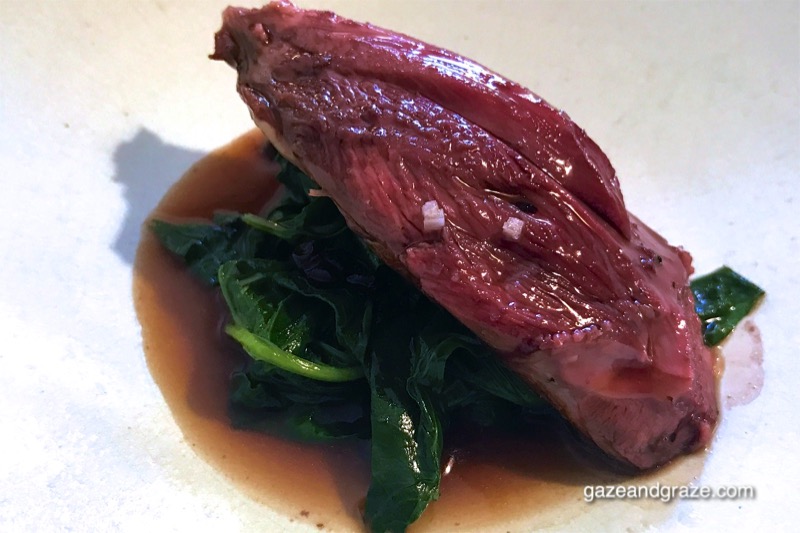 Dessert
We had a refreshing pre-dessert, lemon sorbet with a bay leaf dressing, that probably also worked nicely as a palate cleanser. Dessert was lavender ice cream, caramel mousse and thinly sliced apple accompanied by milk whey. Petit fours consisted of marshmallow with apricot and melon with yuzu sauce.  Given that it was lunch and we were driving, we opted to keep drinks to a minimum. However, we had a nice bottle of Vietti Barolo 2011 that was recommended by Aga's friendly maitre d / sommelier.