Prosecco and Venice go hand in hand. Since Venice is just a one hour train ride from Conegliano, and the start of Italy's "Prosecco Road", it's easy enough to explore the area especially if you have a car. We drove down to Valdobbiadene, the town on the other end of the Prosecco Road, from Cortina. As we headed south, the jagged peaks of the Dolomites turn to green slopes planted with glera, the grapes that make prosecco. To find out more about this increasingly popular aperitif, we spent time with Primo Franco, the head of his family estate Nino Franco, who produces some of the best prosecco.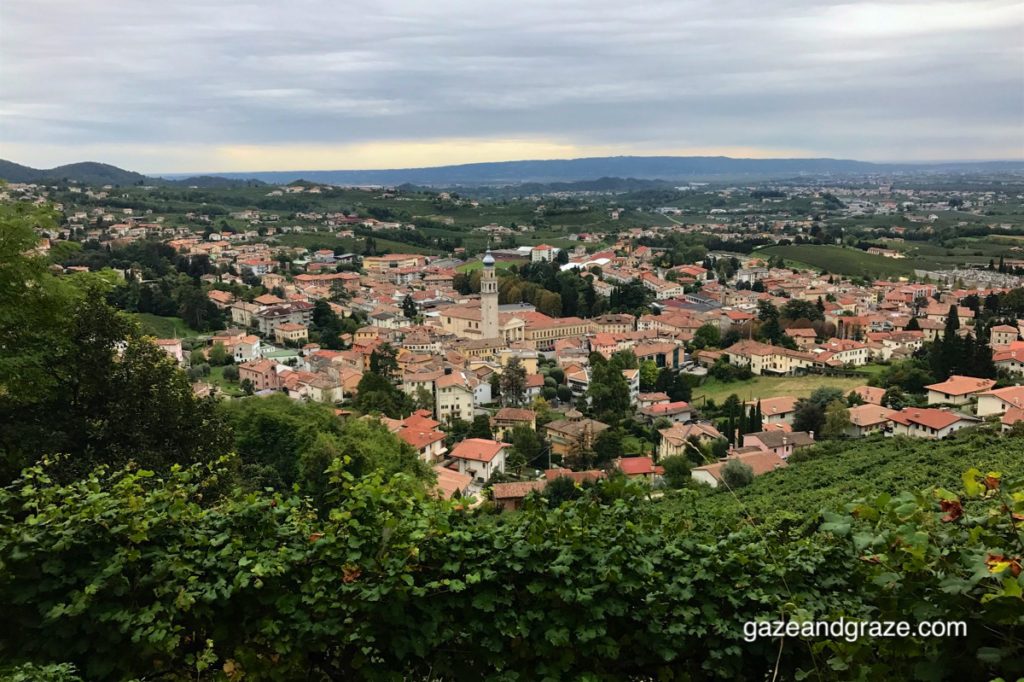 A Day in Venice
Firstly, however, we made a day trip to Venice. People either love or hate Venice and I think a lot of this has to do with the crowds of tourists, especially on days when multiple cruise ships are docked. But on a pleasant early autumn day, well off peak travel season, Venice was once again charming. I've discovered that to enjoy Venice, visiting the usual monuments has to be atoned with time spent in its less frequented neighbourhoods. So we split our day into three parts with the morning comprised of wandering around the streets and a bit of shopping, early afternoon visits to the Doge's Palace and St Mark's Basilica, and a sunset boat ride around the lagoon. In order to expedite travel from point to point, we hired water taxis instead of lining up for the vaporetto (the water-bus). This worked well for us since we were a group of nine and could fill up the whole taxi and split the cost.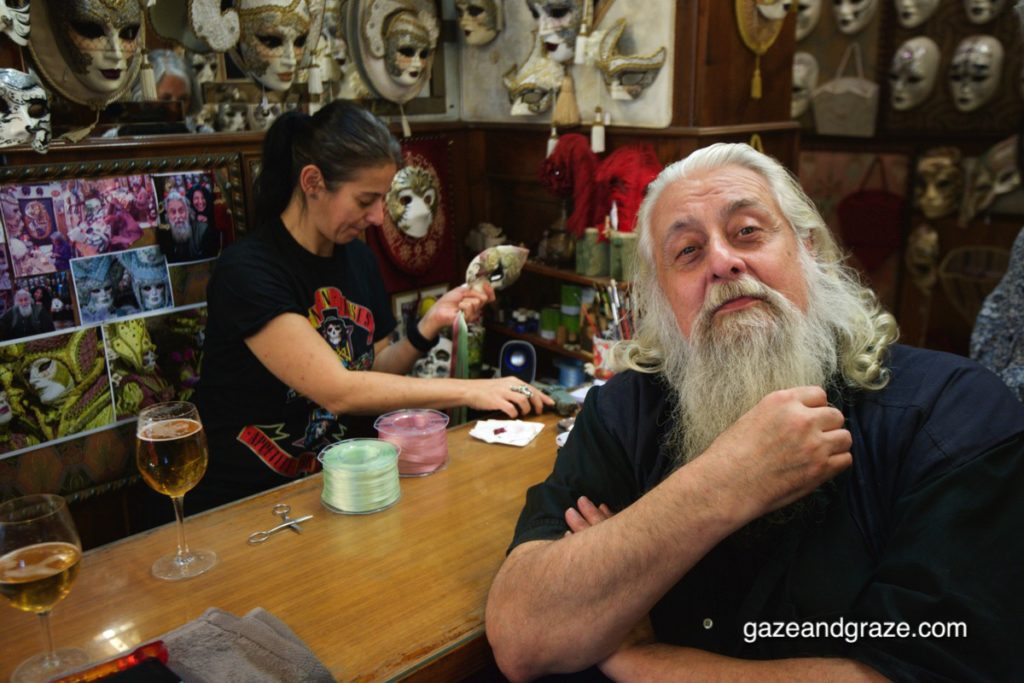 I've also realised that it pays to hire a guide who can ease the entry into monuments. When time is short, spending it by standing in line doesn't make sense. On this trip, we hired Patrizia Bracceschi, a qualified tourist guide. Patrizia was great and knew how to gauge our group's interest level. I thought the tour was well timed at two hours, starting at St Mark's Basilica and moving to The Doge's Palace. If there is a must do tourist thing in Venice, I'd recommend this along with wandering the canals and getting lost.
For many of us, the highlight was the sunset boat tour. I think this is because it was a nice way to unwind the day. The two hour cruise on a traditional, but spruced up, venetian fishing boat was arranged through Il Bragozzo boats and comes with a few bottles of prosecco. Venice's lagoon is charming and watching the setting sun silhouette its famous buildings with a prosecco in hand is all the more apt.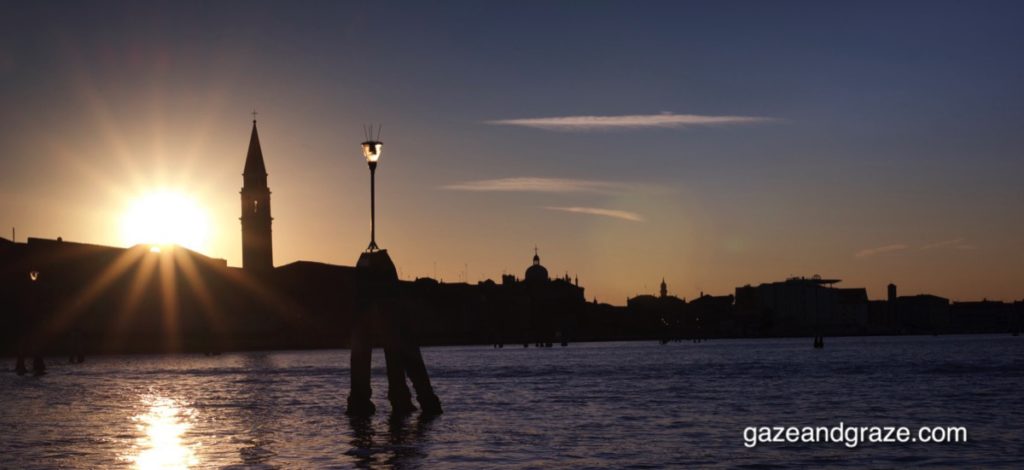 Palladio and Prosecco
Between Venice and all that prosecco, it's easy for visitors to forget that the Veneto area is also dotted with Palladian villas. With the weather not cooperating, we had to scuttle our plans to walk among the vines, and opted to visit the Villa Barbaro (also known as Villa di Maser). This is a good example of Andrea Palladio's architecture with all its symmetry and with the bonus of its Veronese frescoes. Palladio, who was active in the 1550s, is considered to be one of the most historically important architects. The Villa Barbaro is a UNESCO world heritage site.  We weren't allowed to take photos inside the villa but I think it was well worth the quick 25 minute drive from Valdobbiadene.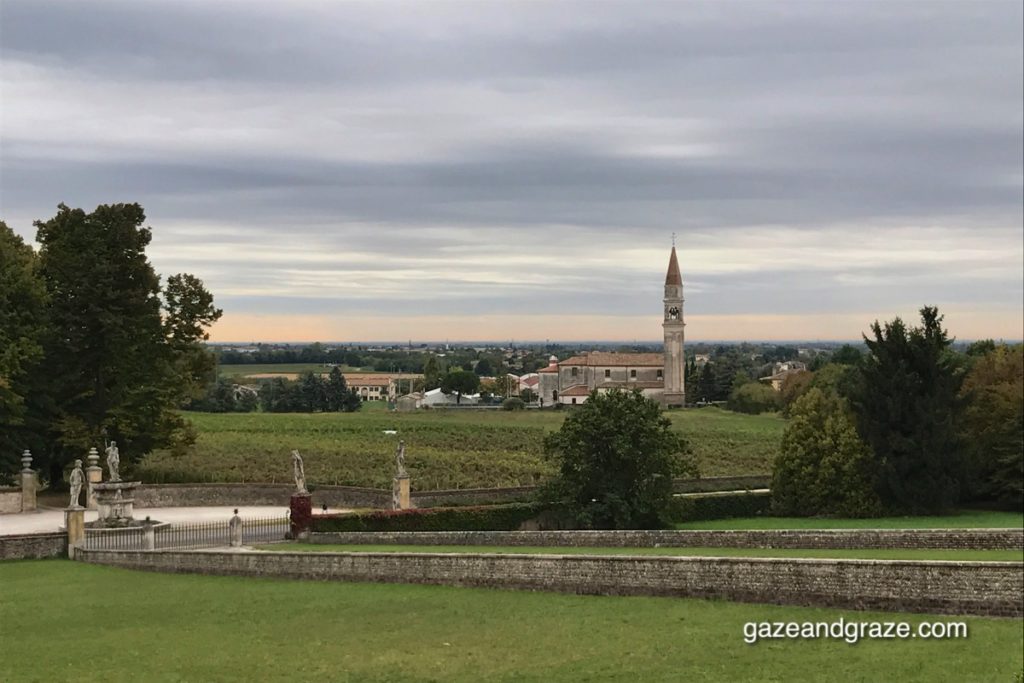 Of course, the main reason to be in the area is to taste the prosecco. There are various tastings available but as we had met Primo Franco before and were staying at the Villa Barberina, which he and his wife own, this was the only visit that we were keen on. Named after Primo's father by Primo's grandfather who started the business in 1919, Nino Franco prosecco is on the higher end of the prosecco brands. It is the prosecco served at many prime establishments including Venice's Cipriani Hotel. It was a treat to be able to get an introduction to their various sparkling wines by Primo himself and to better understand the process and gradings. Prosecco is produced using glera grapes that are indigenous to the area from vines aged from 23 to 80 years. Prosecco is graded as Extra Brut, Brut, Dry and Extra Dry in ascending level of sugar content or sweetness. Much of Nino Franco's products are classified as Brut. One interesting deviation was a Rose Brut made from Merlot and Cabernet Franc. Prosecco is normally drunk as an aperitif but the Extra Brut or Brut proseccos can accompany light seafood. The sweeter variations are also good with dessert. Personally, I prefer proseccos as aperitifs, especially on a hot day. But I imagine the Rose Brut would go nicely with a seafood platter.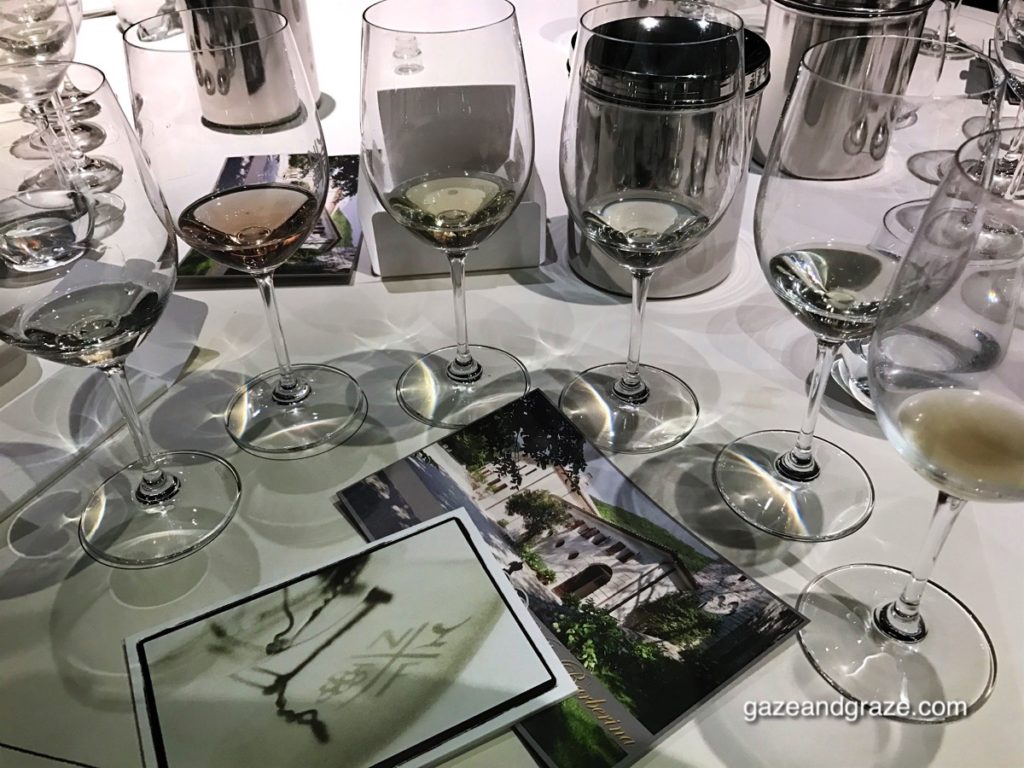 Speaking of Food
Where there is good wine, there's always good food. We went to two restaurants on the recommendation of a local friend. Both were great experiences but in slightly different ways. The food at Locanda Marinelli in Farro di Soligo, which is nestled in the hills 20 minutes drive from Valdobbiadene, was excellent and I'd love to revisit on an empty stomach. It's mainly seafood based dishes and these were cooked to perfection.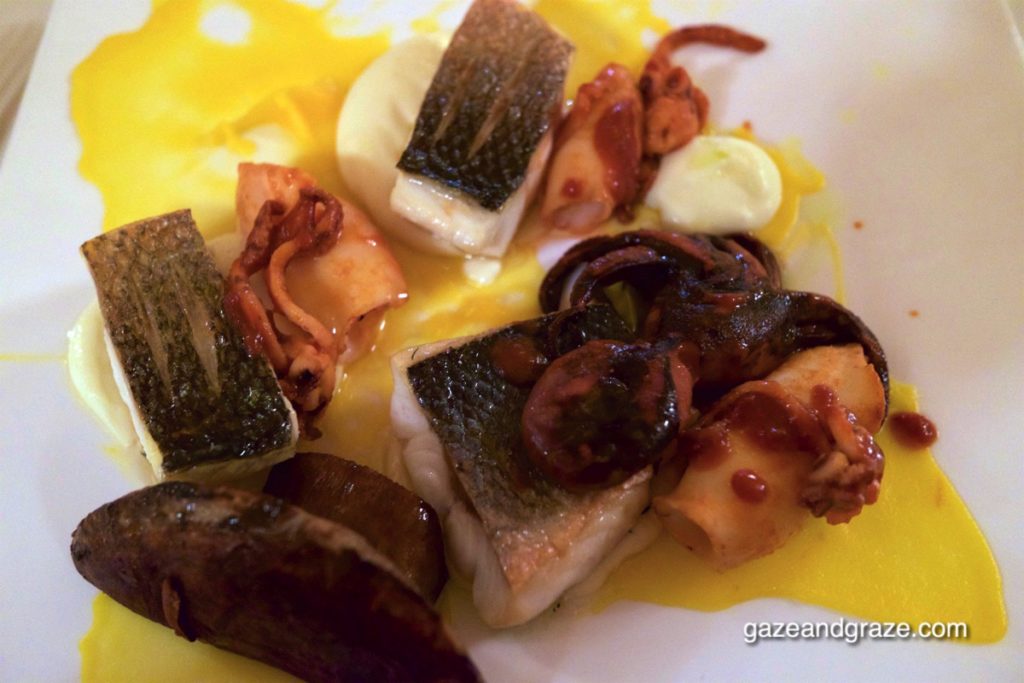 Not much further away was Ristorante da Gigetto where the wines are the focus. Gigetto has an amazing wine cellar where we started our dinner with some cold cuts to accompany our prosecco. They looked after us well with our table charmingly decorated with lots of quince. While the food didn't excite me as much, the overall experience was great.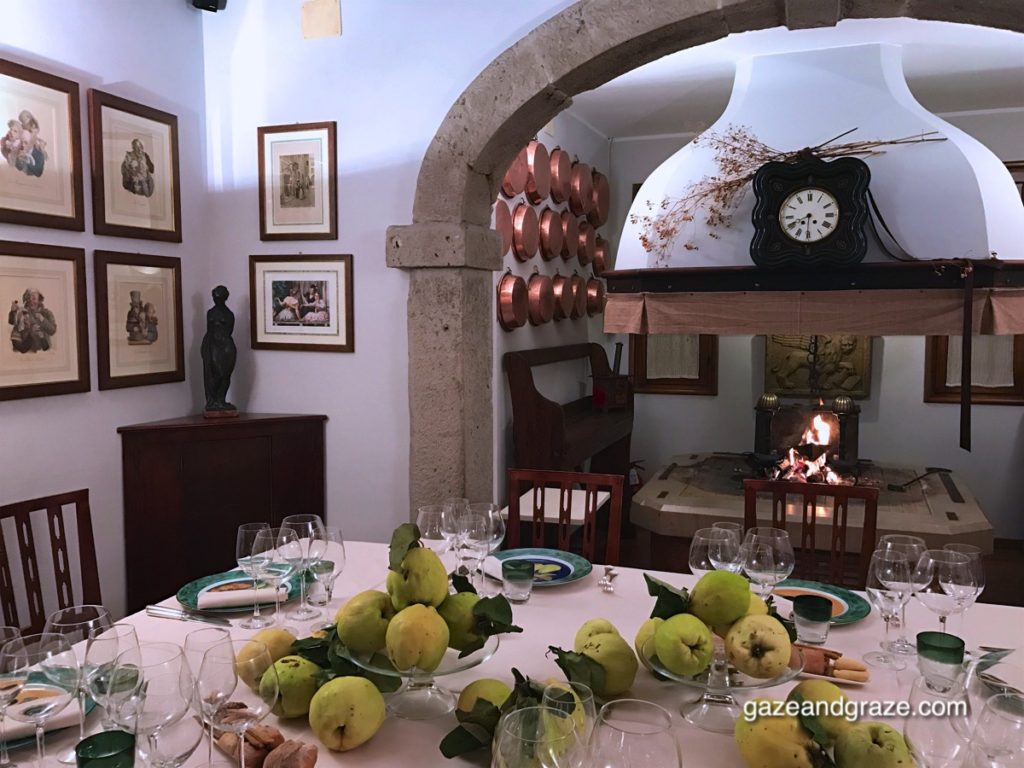 Villa Barberina – Great place to stay
We based ourselves in Valdobbiadene in Villa Barberina, a gorgeous grand house with 300 years of Venetian history surrounded by a beautifully tended garden. The rooms are huge and stay in the house comes with the assistance of a butler, who prepped a really good breakfast for us. Although we didn't spend as much time here, given our wanderings around, we could have easily lounged around the house to just rest and read a good book. In fact, Primo has stocked the house with some amazing old reference books.  And there's loads on the area. On warmer days, the pool would be inviting but for us, it was just a pretty spot to take some photos.