Come on a very empty stomach. Some top rated restaurants fail to live up to the hype but this is not the case for Alinea. It has three Michelin stars and was voted the country's outstanding restaurant by the James Beard Foundation in 2016. Admittedly I was half worried that I wasn't going to enjoy the food as much as I should, but the presentation, breadth of tastes from dish to dish and fine but not stuffy service really surprised me as to how good this place really is. It's almost over-the-top in the exercise the brain and palate gets but all done in a delicious way.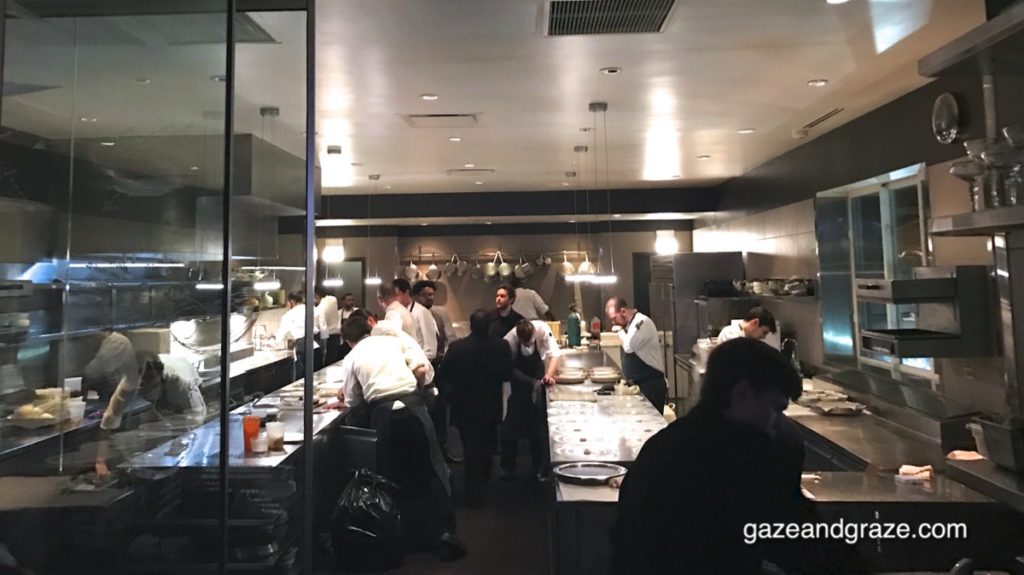 Alinea (website) is hard on the wallet but you get a lot for the cost. The only stressful bit is really the reservation system and which dining experience to choose. There are three choices with the kitchen table (or Chef's Table as it's known in most other restaurants) only available to groups of six. I'd like to do that one day as you can watch the activity in the kitchen. The choice thus, is mainly between the Gallery and the Salon experiences. This may depend on how much your budget is and how much food you want to consume for dinner. The Gallery experience has 16-18 courses and I'm told has more sensory "activity" as well. Since this was fully reserved (only 16 seats are available) when I tried to make my booking, it left me with the Salon. This consisted of 10+ courses and cost USD247.50 per person on the night I was there. Alinea's website states a range of USD175-255 so I assume the variation is due to the seasonal fluctuations and varying ingredients. Payment for the food is made in advance so once you're there at the restaurant, you only have to worry about paying for drinks and tips. Needless to say, with a bottle of wine between two, the evening will end up costing around USD400-500 per person at the least.
But enough about the cost, this is destination dining at the best, and I balanced it out with Shake Shack burgers and Portillo's hot dogs the rest of the trip.
The Meal
Alinea names its dishes and some of these titles are a play on what the item is or how it's prepared. It makes you think and is also an interesting education on how ingredients can be used together to form a totally different experience. It's hard to define Alinea's cuisine (and it shouldn't be necessary to) because there are obvious international influences from Japan to France to South East Asia. The following are photos of my meal in the order that the dishes were served. It looks like there are more than 10 dishes but some were presented together (Crunch and Paper for example). I had a great experience and would definitely hope to return my next visit to Chicago. I'll aim for the Gallery next.